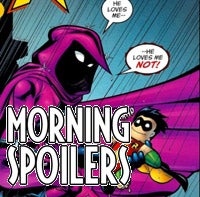 Sometimes the best spoilers can come from an enterprising photographer — like the intrepid soul who got our first glimpses of the awesome motorcycle that super-ninja Snake Eyes will ride in the new G.I. Joe movie. Or the person who caught a precious snap of Christopher Mintz-Plasse (aka McLovin) and Aaron Johnson in their superhero outfits, from the filming of Kick Ass. Or the ever-vigilant souls who caught another glimpse of Lost filming — including one character's surprising return. And then there are times when the spoilers come straight from the horse's mouth, like Jon Favreau's predictions for the Avengers movie. We also have spoilers for Battlestar Galactica, Heroes, Life On Mars, Eleventh Hour, Fringe, Smallville, Chuck and My Own Worst Enemy. Spoilers are audio, visual, and mental. G.I. Joe: Here are the first alleged pictures of Snake Eyes' motorcycle, which looks pretty bitchin. More pics at the link. [Hiss Tank via Movies Spoilers]
Avengers: Now that Jon Favreau is executive producing the team-up movie including his guy Iron Man, he's much more vocal about what he wants to see happen. He says he wants to establish that Tony Stark's dad, Howard, had some connection to Captain America — which explains that shield you glimpsed on Tony's workbench. "There's some relationship between Tony's father and what was going on in World War II, in the Marvel Universe, and Shield, so we're trying to lay some pipe here so that when it all happens it feels somewhat inevitable." And he says the biggest challenge will be integrating Thor with the other Avengers characters, so it all feels like the same universe. Good thing all the Marvel films will be shooting in the same studio and sharing creative input. [IGN] Kick Ass: Here's a much better look at Aaron Johnson as the movie's title character, Dave Lizewski aka Kick Ass, and possibly our first look at Christopher Mintz-Plasse as Red Mist. A bigger version, plus another pic, at the link. [Slashfilm]
Lost: Another day of filming: a chunk of Honolulu got converted into Manhattan's Upper West Side for a street scene, including the Columbus & 67th street subway station, some New York cabs, some news racks, and an antique rug store, established 1902. The scene seemed to revolve around a Honolulu prep school, converted into the Fieldcroft School, with a black limo parked out front.
The scene involved Ben, Locke, Abaddon and... Walt! OMG Walt! Ryan with Hawaii Blog missed the parts with Ben, but saw a scene where Walt and Locke (still in a wheelchair) talked across the street from the school. Eventually, some kids near the school entrance call Walt over, and Abaddon helps Locke into the back of a Lincoln Town Car. Locke has a blue cast on his leg, but can "hobble" over to the car. [Hawaii Weblog] Meanwhile, Elizabeth Mitchell will be busier than ever in the new season of Lost... but it remains to be seen if she's getting busy with Sawyer. [TV Guide] Battlestar Galactica: Things can only get worse for the Galactica crew in the last 10 episodes, because "it's Battlestar," jokes Tahmoh Penikett. Tahmoh was brought to tears three different times in the final few episodes. "Stay true to us," he urges. "We'll bring you through." (Does he mean "bring us through" to a happy-ish ending?) And add Penikett to the list of people who aren't in the two-hour TV movie, "The Plan." [AOL Video] Fringe: People were a little worried when we said the other day that there were no episodes confirmed for Fringe after the Nov. 11 episode. But you can relax now — here are details for the next few eps. In the Nov. 11 episode, Olivia goes to a German prison and has to rely on help from her ex, a German member of Parliament. In the Nov. 18 episode, Walter faces his deepest fears when he has to go back to the institution where he was locked up, St. Claires, to extract info from a patient. And then on Nov. 25, Peter gets put in danger when he meets his ex-girlfriend, Tess. It didn't end well between Peter and Tess, and Peter just disappeared on her. And now she's with someone new. [FringeBloggers] Heroes: Even though the ageless Adam apparently snuffed it last week, the Heroes producers say it's possible we'll be seeing him again. Also, Sylar is going to use the ability he picked up from Bridget, the ability to sense an object's history by touching it, to learn more about Pinehearst. And the heroes will join forces to stop the villains, but they won't be a "team" in the way the Justice League or Avengers are. [The ODI] And here's a "sneak peek" from the Nov. 10 episode, where we get to see more of Mama and Papa Petrelli's marriage. [Heroes Television]
Chuck: The nerd/spy-brain show is casting a major character for its fourteenth episode, "Chuck vs. the Aqua Velva": Dominic, a tough macho rough-and-tumble Brit/Australian guy, like Jason Statham or Clive Owen. [SpoilerTV] We may eventually see Morgan find out about Chuck's spy life, but it won't happen for another year or two probably, says Joshua Gomez. And it would be cool to see Morgan play Alfred to Chuck's Batman. [TV Guide via SpoilerTV] Smallville: The uninvited guests at Chloe and Jimmy's wedding will include a guy with "a bad case of bony protrusions." (Doomsday?) And the returning Lana is "a woman on a mission." Something surprising will happen in the last few seconds. [TV Guide via OSCK]
Life On Mars: Sam Tyler will start to get through to the cops at the 125, but they'll still have a lot of friction with him because his mindset is so different, says Michael Imperioli. And Imperioli's character, Ray, has a great birthday party in episode six, that's "fun and exciting." And yes, the explanation for the reason Sam is time traveling will be different in the American version than it was in the original British version. [TV Guide] Eleventh Hour: Here are some promo stills from the Nov. 13 episode, the one where a woman turns up on the beach, frozen solid on the hottest day of the year. [SpoilerTV]
My Own Worst Enemy: The brain-chip Jekyll/Hyde show's sixth episode has the alluring title, "High Crimes And Turducken." And here's what happens:
Edward (Christian Slater) risks national security in order to ascertain the identity of his parent's killer. Angie (Madchen Amick) prepares for bad news when her father Archie (Stephen McDonald Howard) comes to town for the holidays. Meanwhile, Tom (Mike O'Malley) rekindles his strained relationship with his wife Mary Grady (Missy Yager, "Boston Public") over a bourbon fuelled cooking session. Henry (Slater) gets a birds eye view of Edward's relationship with Dr. Norah Skinner (Saffron Burrows).