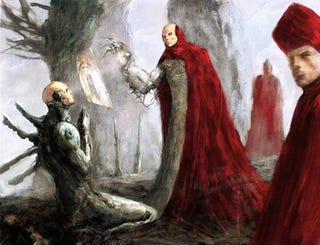 It's a scary glimpse of the cyber-Inquisition future, with red-draped emissaries of a future church seemingly about to torment a spiny cyborg. This alien but familiar image by Simon Fellah, a freelance concept designer in Denmark, is just one of many creepy portraits of alien (and human) life he's painted. We've got a few more for you below.
I love this close-up of a pissed-off alien's face. You can just make out the caption, which reads, "I tell you - those humans are looking for trouble."
I like this alien portrait purely because it reminds me of the lizardy alien race from Ken MacLeod's Engines of Light trilogy. These aliens love to smoke pot, but it gets them high for only a few minutes before knocking them out.
And this monster scene, which reminds me a little of imagery from the Doctor Who episode "The Satan Pit," is just awesome. Fellah knows how to capture alien drama as well as futuristic human horror. Get more Simon Fellah in his online gallery.