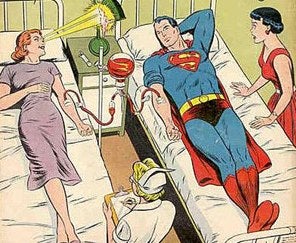 Now that we know shark's blood may be a key ingredient in the fight against cancer, it's time to ponder what other types of blood have healing potential. Which one would you drink, should your life depend on it? Take our poll.Oh scifi blood sources, you always seem to have magical powers that can heal even the sickliest of battered waitresses. There are many types of creatures in the scifi world that can cure what ails you with their liquidy goodness. Let's break it down.
Adam Monroe and Claire Bennet's Blood: Can be used to heal even the most disgusting of injuries. I guess when deciding on who should get the bloodletting it's just a preference of who you would rather drain. Street Value: One half of the secret formula, or something equally as priceless for bartering.
V-Juice: Slang for vampire blood v-juice can be used for a number of things including it's healing powers. V-Juice will also make you super randy, heighten your senses and when taken in extreme amounts give you an eggplant sized wang. Street Value: $600 for a Quarter Of An Ounce
Wolverine's Blood: Performs best if used on the littlest Morlock, but be warned he's going to be a terrible dick about it. Street Value: $50 for a taste (host can be persuaded with fresh cigars)
Cylon Hybird Baby Blood: Hera Agathon the half cylon half human robo baby's blood was used to cure President Roslin's cancer, for a time being at least. Street Value: Hard to say, presumably pretty low as it's not a complete fix, probably could get some with a few good army tank tops, canned goods and some moonshine.
Superman's Blood: Sure a transfusion of his blood would give you his super powers, but imagine what ingesting it would do? Street Value: Priceless
Research by Elizabeth Weinbloom.