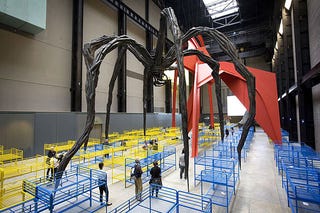 Step into Turbine Hall in London's Tate Modern and you are immediately greeted by the sound of pounding rain and a giant spider looming over rows of cage-like dormitory beds. It's all part of "TH.2058" Dominique Gonzalez-Foerster's new interactive installation, an apocalyptic vision set 50 years in the future. In this world, all that's left for humans to do is read, watch movies, and wait for civilization to end.Gonzalez-Foerster says that the installation was inspired by the 2005 London bombings as well as the global credit crisis. Visitors are immersed in a grim world where humanity has been forced underground:
Push the plastic barriers aside and you are in some kind of bunk-bed-filled disaster shelter - somewhere between Henry Moore's drawings of communal air-raid shelters in the blitz and the nightmarish dormitories of Soylent Green or Blindness, or of certain scenes in Battlestar Galactica.
Media appears to be the last respite of mankind. Science fiction novels are scattered around the bunks while radios blare. Meanwhile, "The Last Film," featuring clips from Solaris, Invasion of the Body Snatchers, and Mission to Mars, plays overhead.
Models of other Tate Modern sculptures, notably Louise Bourgeois's giant spider "Maman," were created for the exhibit. These models were made 25% larger than the originals, giving the impression that the artworks have mutated and invaded the last sanctuary for human life.
Images by Peter Macdiarmid/Getty, Ray Tang/Rex Features, and Dominic Lipinski/Press Association. Sci-fi and shivers: TH.2058 at Tate Modern's Turbine Hall [The Guardian]