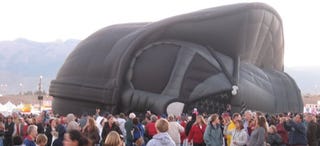 Yet more proof that Star Wars has taken over the world, these pictures from the Albuquerque International Balloon Fiesta show a Giant Darth Vader Head Hot Air Balloon being inflated... and rising above the crowd like a true Sith Lord should.The photos were taken and sent to us by reader Doug Greth, who told us,
I took some pictures of this Darth Vader head inflating, and the photos make it look like a giant Vader rising from the crowds. Each balloon has a support crew, that helps out inflating and controlling the crowd around the balloon. Darth Vader had a crew of Storm Troopers and Boba Fett to keep back the crowd (The balloon is a German balloon, but the stormtroopers appeared to be locals). The crowd gave out a mighty cheer when Vader lifted off.
Truly, the hot air was strong with this one.