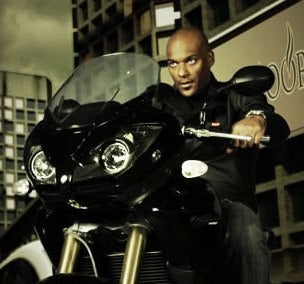 We've already told you about The Many Worlds of Jonas Moore, the British online SF drama that's been optioned by MGM, but even though the web version of the show doesn't launch until November, its creator is already comparing the TV version to The Dark Knight. Well, at least he doesn't lack confidence.Howard Webster, who originally came up with the idea for the show in 1996 before being rejected by studios and deciding to self-finance the project, has been working on the show in his back garden and local Starbucks for the last year... and he wouldn't have it any other way:
I think Jonas Moore is an online trailblazer... It's allowed us to circumvent, with a franchisable IP, all the traditional routes that you'd have to go through. Apart from Doctor Who in this country, where do you take a sci-fi drama to? For the TV manadarins, sci-fi is a poor relation to drama proper - Jonas Moore would never have seen the light of day if I'd taken that in at the development stage. But now we can demonstrate it has a colossal fan base; it allowed people like me to have a platform.
That platform is one that Webster sees as entirely mobile:
I was looking at an iPod and thought the screen reminded me of a comic book cell. I thought the iPod was going to be the fastest selling device in the world; if you could do a comic book for free you would have something big... In the winter it will be a perfect thing for people on their iPods. It's a perfect little bus ride thing.
And even though the series is going to be turned into a show for regular TV, it doesn't mean the iPod-friendly webisodes will stop:
I'm keeping the digital online rights separate from the TV series because I wanted to keep it indie and cool and keep the community going. I've been working on the TV piots and its going to be a real reboot with a big plot twist in it that isn't in the graphic novel. The web graphic novel is going to be the original story, fans will get to see the back-story online, just like Dark Knight is informed by all the old Batman comics.
So, the TV show will be overlong, depressingly bleak and incredibly successful compared with the original web-series, then? I can't see too many people complaining about that... Howard Webster Interview [Paid Content]