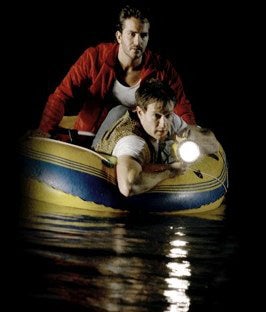 How often do you get a really great movie in the romantic monster comedy genre (AKA "romster comedy" or "romcomster")? "Not that often" is the correct answer, but luckily a bunch of Australian filmmakers and comedians got together to produce the ultimate example of the romcomster — featuring musical interludes. The result is a short film called $quid (yes, with the dollar sign), a tragic tale of two friends whose friendship goes terribly wrong . . . and then gets worse when one reveals to the other that he owes millions of dollars to a giant squid who inhabits the Brisbane River where they're boating. Now the short flick $quid is about to become a feature-length blockbuster. Below, you can see the short film version of $quid, which is pretty much completely awesome — though the musical interlude could have used a little bit more of the Dr. Horrible treatment, at least in terms of the lyrics. Click to view Here's what filmmakers Daley Pearson and Luke Tierney say about the feature-length version of $quid:
Imagine Anaconda directed by the Coen Brothers; a 'creature feature' driven by character rather than action. Then imagine a giant squid attacking a singles cruise on the out skirts of the Brisbane River. That is the inspiration for the feature film, $quid. [It's] about a giant squid that terrorises a New Year's Eve cruise on the Brisbane River.
Can't wait for this kickass new flick. The romster comedy really needs a reboot after My Stepmother Is an Alien. $quid Movie Synopsis [$quid site] Thanks, Avery Guerra!!!