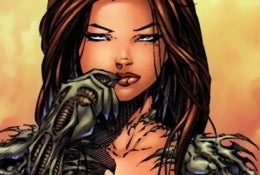 Very definitely going from the sublime to the ridiculous, director Michael Rymer is leaving the set of the final episode of Battlestar Galactica and heading towards the dubious bright, jewel-encrusted lights of the movie version of Top Cow's Witchblade series.
According to Variety, Rymer, who's helmed some of the most important episodes of Sci Fi's flagship from the initial mini-series right up through the current season (including contributing to the writing of the Resurrection Ship two-parter), has signed on to direct and co-produce the big budget adaptation of Top Cow's Buffy meets Green Lantern comic.
This won't be the first time that Witchblade has escaped the confines of the printed page; as well as a two-season run on TNT, the series was also adapted into Japanese Anime a couple of years ago.
Michael Rymer directing 'Witchblade' [Variety]