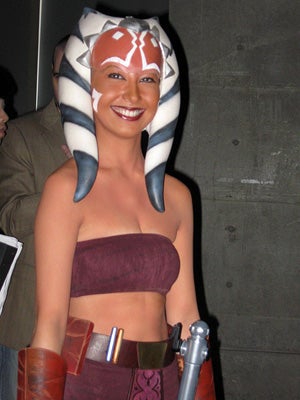 Star Wars has at last officially invaded Japan, as the first official Japanese Star Wars convention kicked off last week with insane numbers of cosplayers and artists descending on Tokyo in an orgy of fandom. There were tons of cool toys, as well as Japanese artists contributing to the Vader Project's collection of weirdly-painted Vader heads.
StarWars.com's Bonnie Burton writes from Japan to say:
It's the first time we've had an official convention here and the fans are going crazy for it. Not only are there stormtroopers and clone troopers galore, but we have a huge snow speeder for people to climb in, as well as a lifesize dewback to sit on and get their photos taken.
You can see Burton's amazing pictures of the event (including costumes) in her Flickr stream, or read all the coverage at StarWars.com. (Thanks, Bonnie!)