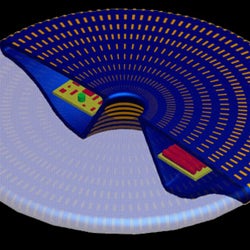 Too busy building your own flying saucer all week? Don't worry, we've collected all of the best stories of the week and filed them below for your reading pleasure.



Flying Saucer Power Source Discovered: Ionized Air

Those strange lights in the sky seem to move with unnatural precision, making turns and accelerations no human-made aircraft could possibly match. What ultra-advanced anti-gravity system allows UFOs to fly in such a bizarre way?



10 Batman Books You Must Read

With The Dark Knight less than two weeks away from opening, now is the time to start pretending that you know all there is to know about Batman in order to impress family and friends alike.
Five Signs the United States Is Withering Away

There are good reasons to believe that the U.S. is falling apart, and we've got five big ones for you to mull over as you watch this once-powerful twentieth century empire slowly drip down the drain.

Scientists Identify Genes that Could Turn Ordinary People into Supergeniuses (or Mindless Drones)

It's clear that there's a specific set of genes responsible for brain development when you're in the womb, and that those genes affect your ability to learn later on. But now a group of researchers in the U.S. and Canada have identified those genes.
Now X-Women Can Be Bimbos Too

One of the things that made Chris Claremont's run on the X-Men such a groundbreaking success was his adamant refusal to let any female character play the stereotypical sexpot role no matter what. As Terry Dodson's variant cover to this month's 500th issue of Uncanny X-Men shows however, things can change.
The Future of an Ancient Idea

No matter what we do, the idea of teledildonics just won't go away. Everybody wants to figure out how to put their thinger in somebody else's thinger via bluetooth or TCP/IP or port 1337. Or, apparently, via the Wii. Check out these lovely new attachments for the Wiimote, created by a group at Bauhaus University in Weimar. Yes, you'll want a closer look, below.
Clone Wars' Baby Jedi Is Marked For Death

Isn't Ahsoka Tano adorable? Look at those big blue eyes and stripey horns, what a doll. She's the only new major character to be introduced in the Star Wars: Clone Wars TV show, premiering as a movie next month. Clone Wars takes place between Episodes II and III, and of course Ahsoka isn't in Episode III. But even apart from that fact, I've never seen a character so marked for death as this little Togruta. And here's why.
Your Spoiler Forecast for 20 Movies And TV Shows

How much do you need to fear spoilers for your most eagerly anticipated TV shows and movies? It really depends on how susceptible to spoilers the movie or show is, and how much you care. We've classified 20 upcoming bits of science fiction entertainment, based on how likely you are to know what happens in them already, and how likely you are to care.
Mike Mignola, Creator of Hellboy: Low-tech and Badass

Wise-cracking anti-heroes have always been around, whether in comics or other media. But Mike Mignola went a step further: he brought in Boys from Brazil-style Nazi bad guys, monsters that could rival Lovecraft's Old Ones for sheer alien intensity, a cast of fascinating supporting characters, and a mysterious past for Big Red himself. What made it work, however, was his approach to the art. We've got an interview with Mignola below, as well as a gallery of his art.


Behind Abe's Big Fish Eyes: io9 Talks To Hellboy II's Doug Jones

Doug Jones is the man behind almost all of your favorite creepy crawlies from Guillermo del Toro's imagination. In Hellboy II: The Golden Army, Jones plays three of the most surreal characters, including everyone's favorite fish man Abe Sapien. We got a chance to catch up with Doug and talk about the behind-the-scenes secrets of Hellboy II and Hellboy III, his dream role as Guillermo del Toro's Frankenstein monster, his role in Quarantine and playing the ice cream man of doom in a religious apocalypse film Legion.