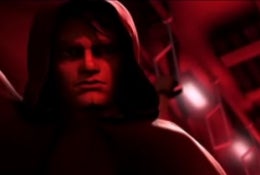 Interested in the new Star Wars: The Clone Wars movie, but not interested enough in wanting to leave your home to go and see it? The Force is apparently with you; with just over a month to go before the movie gets released in theaters, apparently Wal-Mart is already working on the DVD release.
According to fansite RebelScum's Wal-Mart calendar for the remainder of 2008, we can expect the DVD of the new Clone Wars movie to hit stores on November 18th, surprisingly soon after the October 3rd launch of the spin-off television series on TNT and Cartoon Network.
If that's not enough Star Wars takehome for you, then you can also expect a whole new Clone Wars toyline at the end of this month, as well as a new Clone Wars videogame to coincide with the DVD release. Soon, it'll be just like the first time you got sick of all the merchandise tie-ins all over again.
Reason To Believe In The "Power of the Force" [RebelScum]