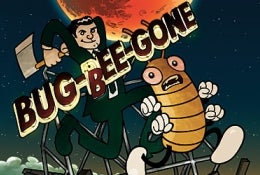 Showtime is bringing in The Exterminators, courtesy of a just-announced adaptation of DC Comics' horror series from the Vertigo line. In a strange moment of the circuitous nature of media, Vertigo's The Exterminators actually started life as a pitch for a TV show by writer Simon Oliver before being turned into a 30-issue series about ex-con Henry James' experiences working for Bug-Bee-Gone, an exterminator company run by his stepfather. It sounds dull until you learn about the possibly-mystical mysterious box with some connection to insects, Nazis and the Gulf War
There are also the unfortunate side-effects of Draxx, the experimental new chemical Henry has to use on a daily basis. All I'm saying is this: Anyone with a fear of cockroaches should probably stay away.
Showtime apparently plans for the show to downplay the more unrealistic plots from the comic, describing the new show as:
"Six Feet Under" in the world of pest control... "Exterminators" will revolve around the Bug-Be-Gone crew, an extended dysfunctional family of exterminators whose greatest enemies aren't the insects and rodents they meet and kill on a daily basis but rather their own self doubts, vices and inner demons.
Ironically, the news is announced in the same month as the final issue of the comic is released, having been cancelled due to low sales. If only Showtime had announced this six months earlier...
Showtime buggy over 'Exterminators' [Hollywood Reporter]