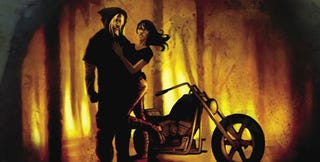 It's the same old story: Mechanic invents super-fuel, Mechanic refuses to sell super-fuel formula to corporation, Corporation drowns mechanic in super-fuel, Mechanic rises from the dead to take revenge on corporation. How many times have we read that old chestnut? Soon we'll have another chance when Chopper Zombie, a new graphic novel from the creator of Discovery Channel's Monster Garage, hits the stands.
Chopper Zombie springs fully-formed from the brain of Thom Beers, the man responsible for Discovery shows like Deadliest Catch, Verminators and Monster Garage. Well, actually, from the brain of his son:
We've been doing series like Biker Build-Off and Monster Garage because I just love choppers. My son Max, who's ten, loves zombies. He told me that choppers and zombies go together... So, we gotta do it! Choppers and zombies. And wait until you see this chopper. Awesome.
Currently running as an online comic, the completed 144-page graphic novel, to published by Devil's Due, will make its debut at the end of this month at San Diego Comic-Con.