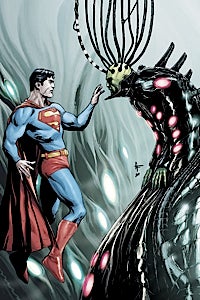 Brainiac and his city-shrinking ways are back in Action Comics with his own five-issue arc, courtesy of writer Geoff Johns. So what's going to happen in the first issue, and what type of Brainiac are we going to see? Comic Mix interviewed with Johns and he let slip that Brainiac may have more to do with Superman's origin than we previously thought. Spoilers ahead.
One of the most feared and revered characters in the Superman universe is Brainiac. So when you bring him back, it's got to be in a big way. And from the sounds of the first issue, it could be an epic starter filled with flashback scenes. John's revealed that we'll learn more about the history of Krypton and Brainiac's involvement with its destruction. The first issue even deals with a flashback where you see General Zod defending Krypton from Brainiac.
John's also explained what Brainiac is going to be like after being gone for a while:
We wanted him to be very unsettling, very alien and feel different then the other adversaries that Superman has. The idea is to make Brainiac one of the villains that Superman dreads when he has to face him, rather than just another slot in a long line of villains. I think our first issue has a real creepy vibe to it and Gary did a really great design on him.