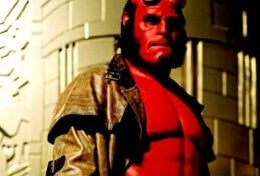 Okay, so the new TV docu-history Comic Books Unbound may not tell you anything you didn't know already. But don't let that scare you away from the Movie Channel's potted history of the medium and how it's changed the face of modern movies. There are even testimonies from Paul Pope and (weirdly enough) Selma Blair.
An hour-long documentary sandwiched between Spider-Man 3 and Ghost Rider, Comic Books Unbound is all about how comics have taken over mainstream pop culture. Refreshingly enough, it's not completely superhero-centric (Fritz The Cat gets a shout out for shocking audiences by having cartoon animals fuck and do drugs), and not entirely reverential to the big names. For example, this comment on Mario Puzo's original script for Superman The Movie:

[The producers] felt he was a name, because of The Godfather. And he started the script, and it was godawful. It was the story of some guys trying to kill the Pope. And that's not a Superman story.
Sure, there's some suspicious rewriting of facts - Spider-Man was apparently the first comic to ever depict drug use? Superman was the only character wholesome enough to survive a Nazi-esque purge of comics in the 1950s? Seriously?
At the same time, this documentary is also one of the only places where you'll see stars of the ill-fated, 1980s movie versions of Captain America and Fantastic Four talk about just how crappy their movies really are (Clue: Very).
Comic Books Unbound [Starz]