Custom-made, prosthetic eyes are molded in acrylic and then painted by hand—a meticulous process that can take anywhere from 4 to 8 hours. But a recently developed 3D printing process can produce eyes of equal quality, at a rate of 150 per hour, reducing the cost by 97 percent.
The prosthetic eyes are the result of a collaboration between Manchester Metropolitan University and a British company, Fripp Design and Research.
According to a report in Dezeen magazine, the components of the eyes—including the irises and blood vessels—are printed from powder in full color and then encased in resin. The eyes can be made in batches, each with a slightly different hue, to match the look of the prosthesis to the patient's existing eye. The cost is around $150, as opposed to the handmade version, which carries a $5,000 price tag.
The process is still under development, says company founder Tom Fripp. But when ready, it could find a global market:
"The technicality in customising an iris is very demanding and although we haven't perfected it yet, we are working on it."

He added that there had been strong interest from India, where less advanced surgical procedures result in a high number of patients losing their eyes. "Because of the high number of relatively poor individuals in the country, they tend to simply go without," said Fripp "However, our system will allow them to purchase a prosthesis."
G/O Media may get a commission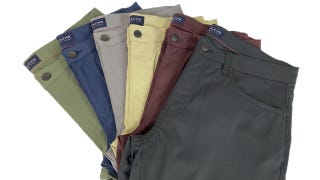 JACHS NY Fall Stretch Tech Pants