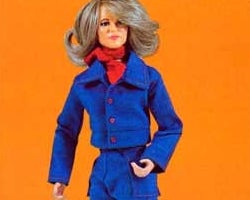 After you've saved the world from robotic face-changing spies, there's really only one place to go to relax: The Bionic Beauty Salon. Or the Bionic Repair Station. At least, that's what kids in the mid-70s believed thanks to Kenner's range of Six Million Dollar Man and Bionic Woman toys reinforced both the excitement of "bionic action" and wonders of gender stereotyping.
Boys in the '70s were given all manner of toys to tie in with their favorite televisual cyborg; not only could you get a Steve Austin action figure, there were also additional "critical assignment arms" to collect as well!


And when Steve got tired after fighting Maskatron - "The ultimate enemy of the Six Million Dollar Man" - he could always kick back in the Bionic Transport and Repair Station. Which, as the ad copy states, is multi-purpose:


Poor Jaime Sommers didn't fare so well, though. Not only did she not get her own villain to fight, she didn't seem to get to do that much at all, besides... well... be a Bionic Barbie. Look at the way her figure is described:
Beauty and Fashion plus Bionic Action! 12 1/4" beautiful fully articulated figure modeled after Lindsay Wagner, the star of the Bionic Woman TV show. Silky fully rooted hair... Dressed in official stylish jogging outfit and tennis shoes.

And where Steve had his rocket-cum-repair station, Jamie had... well, this:


It didn't get her down, though. She was so happy with her "Bionic Woman Dome House" - "Where Jamie Sommers Entertains Her Friends!" apparently - that she was happy to share it with Steve:


This is obviously where last year's Bionic Woman revamp went wrong: Too much angst, not enough Dome House.
Kenner Toys 1976 Catalog [PlaidStallions.com]