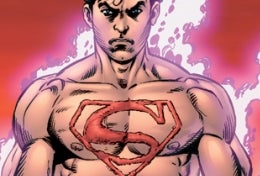 Sure, everyone may be talking about Entertainment Weekly's preview pages from DC's big summer event Final Crisis (see Morning Spoilers). Yeah, you can read the original script as well as the finished pages from the beginning of the series. But they're not the only preview to a big DC Comics series available online. Want to see the future of the Boy of Tomorrow? Come under the jump.
Don't get us wrong: EW's Final Crisis preview was apocalyptic enough to get us excited to see what's going to happen to Superman and friends when evil takes over the world at the end of the month - especially with gods dying in dumpsters and lines like "Let the space cops handle the fallout" - but it's almost more exciting to see Wizard Magazine's four page preview from Final Crisis: Legion of 3 Worlds, showing us another twisted version of Clark Kent's arrival on Earth... Except that, this time, Clark is the insane fanboy-made-bad "Superman Prime," and the people who discover him in a Kansas field 31st-Century bigots who try to kill him. Obviously, that isn't going to end well.
Hitting several comics fanboy G-spots at once in this preview alone, the series is intended to, in the words of writer Geoff Johns, "show fans and readers how awesome the Legion [of Super-Heroes] can be."
The series launches in August.
DC's 'Final Crisis' [EW.com]
Legion of Three Worlds #1, Exclusive Sneak Peek [Wizard Universe]