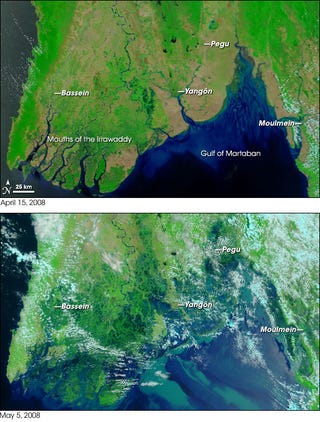 Waterworld, the Kevin Costner eco-disaster flick that flopped at the box office, turns out to be a lot more prescient than most well-made scifi flicks. Many highly-populated areas of the world that were once safely on dry land have become perpetual flood zones and could slip underwater any year now. For example, several areas in Myanmar were hit with floods this week after Cyclone Nargis (you can see the before and after satellite photos here), and such floods are likely to become more commonplace as as the climate warms.
Explaining these satellite photos, NASA reps say:
Flood water can be difficult to see in photo-like satellite images, particularly when the water is muddy. This pair of images from the Moderate Resolution Imaging Spectroradiometer (MODIS) on NASA's Terra satellite use a combination of visible and infrared light to make floodwaters obvious. Water is blue or nearly black, vegetation is bright green, bare ground is tan, and clouds are white or light blue.

On April 15, rivers and lakes are sharply defined against a backdrop of vegetation and fallow agricultural land.... The wetlands near the shore are a deep blue green. Cyclone Nargis came ashore across the mouths of the Irrawaddy and followed the coastline northeast. The entire coastal plain is flooded in the May 5 image. The fallow agricultural areas appear to have been especially hard hit. For example, Yangôn (population over 4 million) is almost completely surrounded by floods. Several large cities (population 100,000-500,000) are in the affected area. Muddy runoff colors the Gulf of Martaban turquoise.
How long before we start seeing ship cities springing up in these water-logged regions?
Myanmar's Delta Waterworld [DotEarth]