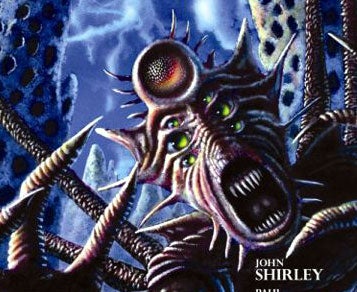 Cyberpunk guru John Shirley could be spawning three movies soon: the Weinstein Company is doing a movie of his novel Demons, in which corporations deliberately cause cancer as part of a program of human sacrifice, with Jim Sonzero (Pulse) attached to direct. "Wish I wrote the script, but some "A" scripter got the job," Shirley tells io9. Plus his forthcoming novel Bleak History, an urban fantasy set in a near-future New York, has been optioned by New Regency Productions (Mr. And Mrs. Smith). And his adaptation of Edgar Allan Poe's story Ligeia is in post-production. If that wasn't enough, he has three new books in the works, including the "lost cyberpunk novel."
That lost cyberpunk novel would be Black Glass, coming out in August from ESP Books. Says Shirley:

Black Glass, which will be published in its first, hardcover edition, this summer, by Elder Signs Press, was conceived under a different name and as a different kind of project, in the early days of cyberpunk, by myself and William Gibson, the author of Neuromancer and Spook Country and all his books in between. We had collaborated on a couple of projects before this one. I don't remember who came up with the main idea or the general story of Black Glass. I know I wrote up an elaborate tale based on our discussion; I'm the one who fleshed it out and Bill approved it. But then the project got derailed, we both got diverted, and Bill was swept off to collect awards, count his royalties, chill with rock stars, and work on other projects. Subsequently, long subsequently, I remembered the book and inquired; Bill is a busy guy and turned the whole thing over to me.

So some years later I have written the novel, which I think of as the Lost Cyberpunk Novel; I have written it in its entirety. No one else should be held to blame.
You can read some excerpts here. Also, he's working on a new collection, In Extremis, The Most Extreme Short Stories of John Shirley. (Presumably this will be weirder than his collection Really, Really, Really, Really Weird Stories.) And then there's the aforementioned Bleak History, coming late this year from Simon and Schuster.
Image from cover of Dark Wisdom #8, featuring Shirley's writing.