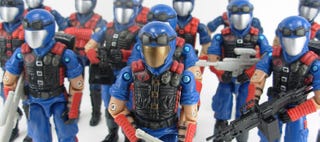 Destro's M.A.R.S. Arctic Headquarters have been revealed for all to see. Thanks to a IESB.net's Robert Sanchez we can now glimpse the sets and glean some of the secrets of the new G.I. Joe flick. Find out what's in Destro's Arctic Headquarters, and get some toy hints, after the jump.
Destro's Arctic Headquarters include a submarine docking area, medical lab, the diving bell room, Destro's submarine, a control room and (best of all) a giant ice cave. IESB also got to check out a few of the JOE toys including a JOE Sub and described it:
Small two man submarine called a "SHARC" (Submersible High-speed Attack and Reconnaissance Craft), the cargo area of a troop transport and the remains of the Urban Combat Level of The Pit.
As far as details about the plot and characters all they could reveal is that there will be lots of explosions. Vipers and Neo-Vipers were on set. It should be exciting to see how they'll bring all of the Vipers to life, as they're the best expendable foot soldiers ever (so many different kinds!). Also, Brendan Fraser has no connection to the movie whatsoever and neither does Dwayne Johnson (pity).

G.I. Joe Set Tour [IESB]