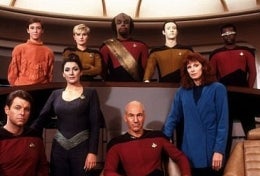 As if to prove the truth behind that whole "one step forward, two steps back" thing, the Sci Fi Channel announced a new deal with CBS Television that not only gives them the cable rights to Star Trek: The Next Generation and Mork and Mindy, but also Charmed and... well, The Ghost Whisperer and Friday the 13th: The Series. If you're wondering what those last three have to do with science fiction, the official press release is happy to tell you that that's not what the Sci Fi Channel is all about these days.
Tucked at the end of the press release is the following description of the channel:
SCI FI Channel is a television network where "what if" is what's on. SCI FI fuels the imagination of viewers with original series and events, blockbuster movies and classic science fiction and fantasy programming, as well as a dynamic Web site (www.scifi.com ) and magazine.
I love that the words "science fiction" seem almost an add-on there, after original events and "blockbuster movies". But "a television network where 'what if' is what's on"? Really? That's the best they can do? I mean, sure, it explains what something like Charmed or even Who Wants To Be A Superhero? is doing on the channel, but how does Friday the 13th fit into that formula, besides awkwardly...?
The real point of the release is to play up the Ghost Whisperer acquisition, which will play in 4-hour blocks starting next year; Star Trek: The Next Generation goes into permanent rotation next month (June 2nd, to be precise), and no date is given for a return for Ork's favorite hairy human investigator.
Sci Fi Channel Acquires Off-Net Cable Rights to CBS Television Distribution's Ghost Whisperer [The Futon Critic]