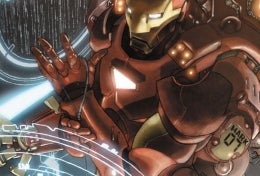 You'd be forgiven for thinking that the comics industry has gone movie mad this week, judging by the books hitting stores tomorrow. Well, more movie mad than usual, perhaps. If it's not Marvel capitalizing on the success of Iron Man with two new Iron Man series and many other books starring the chrome crusader, it's a sequel to one of last year's summer blockbusters, and the long-awaited conclusion to a story by one of Hollywood's one-time top directors. Celluloid craziness and more, under the jump.
Given the lead time required to prep all of tomorrow's books, Marvel took quite a gamble preparing such a glut of Iron Man comics. Luckily, the movie is a massive success, which will hopefully create more interest for the new ongoing series The Invincible Iron Man (written by Casanova's Matt Fraction, and therefore worth your attention). There's also a new mini-series, Iron Man: Viva Las Vegas (written by Iron Man movie director Jon Favreau). And new collections Iron Man: Enter The Mandarin and Iron Man: War Machine (Those of you who liked Jim Rhodes in the movie may want to check out the latter, by the way; it's what happens when he gets his own armor). And then there are other Tony-Stark-starring books like Avengers/Invaders, Secret Invasion, Invasion tie-in Mighty Avengers and the paperback version of New Avengers: Illuminati (which leads directly into Secret Invasion, for those who didn't know). Just imagine what would've happened if the movie had flopped?

Much safer to take the route that IDW have taken, waiting a year to produce the first issue of Transformers Movie Sequel: The Reign of Starscream, an officially-sanctioned-but-sure-to-be-ignored-by-Michael-Bay follow-up to last year's Shia LeBouf vehicle that was more than met the eye. Wondering what happened to the bad guys that weren't Megatron after the credits rolled? This will be your place to find out, as well as where you'll get to meet some new robots in disguise. If you'd prefer a more nostalgic take on the franchise, IDW also has an old-school reprint, Transformers: Best of The UK: Dinobots, collecting stories from the UK comic of twenty years ago. Excuse me, now I feel old.
In comparison, DC has low movie magic this week, offering just Action Comics Annual #11, the sixth and final part of "Last Son," which is Superman: The Movie director Richard Donner's co-written (with Geoff Johns) resurrection of General Zod and the rest of the Phantom Zone villains from the second movie. Oh, they have other books - I'd point out new monthly House of Mystery and Lost-meets-dinosaurs mini-series The War That Time Forgot in particular as worth your time — but when it comes to movie tie-ins, they can't give you lights or camera... only Action.
As is always the case, you can find all of this week's new releases - movie-related and otherwise- listed over here and find your closest shop filled with four color wonders by clicking through to here. All popcorn is optional, and you have to bring your own.