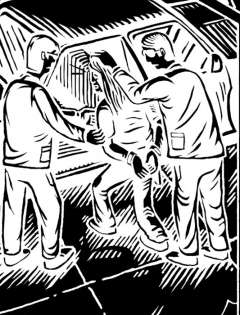 Using bacteria and harmless biological materials to whip up bio-art projects in your living room is not against the law, a U.S. district court determined yesterday. The decision marked the end of a four-year ordeal for artist Steve Kurtz, who was arrested in 2004 when his wife died and police arrived to discover petri dishes and other "suspicious" lab equipment in Kurtz's home. The equipment was for a show he and his wife had been prepping for a show about GMO foods at a Boston museum, but police confiscated it and detained Kurtz in jail anyway.
Lynn Hershman Leeson recently released a film about Kurtz' arrest called Strange Culture. Tilda Swinton played Kurtz' wife (pictured), largely because the Academy Award-winning actor wanted to help call attention to the artist's plight.
Luckily, the court seemed to think the charges, which included mail fraud for receiving biological samples in the mail, were absurd. According to Artvoice:
U.S. District Judge Richard Arcara ruled that criminal charges brought against him by federal prosecutors were "insufficient on[their] face."
Kurtz has continued to make art with the Critical Art Ensemble, and you can see samples of that here.
Kurtz is Cleared [Artvoice]