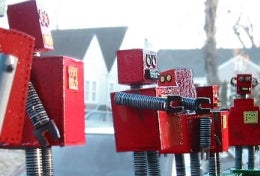 Have a mechanical friend whose artistic side is just waiting to come out? Then make sure that you're in Ireland this September for ArtBots 2008, a three day art show taking place on the 19th through the 21st of the month in the appropriately named Trinity College Science Gallery. According to the just-released call for works, artists of both the metallic and fleshy persuasion are welcome to submit their art, as long as it's suitably robot-centric.
As the show's website explains:
We have no fixed idea of what qualifies as robotic art; if you think it's a robot and you think it's art, we encourage you to submit your work. Regardless of whether it's hi-tech, low-tech, or neg-tech, we're interested in the ideas you're working with, not just the gear... Each ArtBots is a bit different; the location changes and we invite new humans to co-curate the show with us. We hope that by changing the specifics of the show each year we can keep it accessible to a diverse range of people, works, and ideas.
This year's curators include comic writer Warren Ellis, Trinity College professor Marie Redmond and Director of Research at the Columbia University Computer Music Center Douglas Repetto.
Artists interested in show their work at the show have until May 1st to get their application in to the curators, with notification of success being given by June 2nd.
Flickr image by Dystopos.