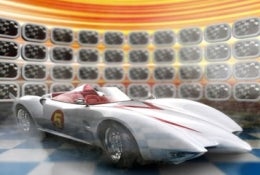 If you're an MTV addict — and, really, who doesn't find themselves glued to My Super Sweet 16 every time it's on? Why didn't my parents rent out NYC and buy me Jay-Z when I turned 16? I feel deprived — then I just want to tell you in advance: Your TiVo isn't broken. It's just been hijacked by the Wachowskis, who plan to fast forward through trailers to give themselves some time to tell you about Speed Racer.
In a move similar to Battlestar Galactica hijacking your internets this Friday, Warner Bros will be speeding up show promos and website clips for various Viacom channels, including MTV, VH1, Spike, TV Land and Comedy Central from April 10th through 18th, promoting not only the Speed Racer movie, but also a tie-in contest giving fans a chance to win their very own Mach 5 through the RaceForSpeedRacer.com website.
The promotion is intended to detourn viewer's commercial-skipping DVR habits, according to MTV's creative director of digital fusion, Mark Fortner:
Consumers are utilizing their TiVos and DVRs to speed up programming... So instead of playing against that, we can sort of tie in with the way people are actually consuming media and behaving.
Either that, or fans will completely miss the 15-second ads altogether, because they'll be over so quickly. Speed Racer bursts onto MTV Nets [Hollywood Reporter]