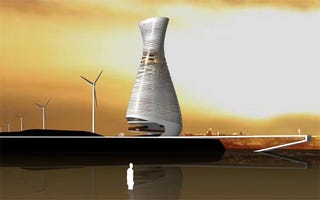 The Mersey Observatory in Liverpool, England will soon look like a 50-meter-high space-age teepee — and it will glow in the dark, thanks to a photoluminescent material that works like glow-in-the-dark stickers, sucking up light during the day. The contest-winning design for the Observatory uses the natural energy sources of the region, like wind, surf, and sun, and creators Mary Duggan and Joe Morris believe the site can be completely carbon-neutral.
You might be wondering why the observation deck is so far away from the other building to its left, which is a visitor center. It's because Duggan and Morris see this not just as a building, but as a sort of real life table top in a still life painting. Doesn't it remind you of the fruit basket and vase you drew in middle school art class? The visitor center is actually called "the bowl."
You can see it really looks like a bowl here. The visitor center has a gallery, a cafe, and a shop. The observation tower is called "the lamp."
Images by Duggan Morris Duggan Morris Architects main page via Designboom