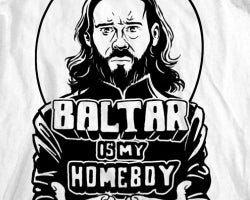 With only days remaining before Battlestar Galactica returns to blow all of your "fracking" minds, there's only one way of showing your love for Bob Dylan's favorite science fiction television show. And it involves pledging your chest's allegiance to an anti-hero with a name that sounds like a character from Planet of The Apes.
Clothing website Enclothe shows off what just may become the must-have item of the upcoming season - the "Gaius Baltar is my Homeboy" t-shirt:
Sure, Gaius Baltar may be responsible for the extinction of the entire human race, but he's still my homeboy.

In celebration of the final season of Battlestar Galactica returning April 4th, we're geeking out and offering this limited edition Baltar T for one month only. Grab one now before its all over.
Baltar, of course, is just the latest political figure to claim "homeboy" status, but looking at the other candidates, you do have to concede that he may be the most trustworthy.
Baltar is my homeboy [Enclothe]