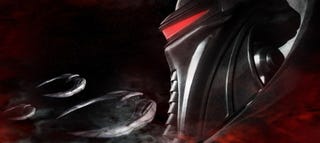 Apparently, the Cylons aren't the only ones with a plan. Sci Fi Channel parent company NBC/Universal is pulling out all the stops to promote this Friday's return of Battlestar Galactica, including switching off the internet and telling you to watch television, instead. According to advertising bible Brand Week, NBC/Universal has made sure that you're not going to be able to surf the web instead of watching their show on Friday night.

Says Brand Week:
If you're surfing the Web later this week during a specific prime-time hour, the screen could go completely dark, except for a single command: go immediately to your TV and turn on Battlestar Galactica ... The blackouts will happen on sci-fi enthusiast sites like UGO and 1Up as the opening episode launches on April 4. That follows a mid-day live stream that's intended to whet the appetites of the faithful.
And that's not all - expect to not be able to escape the show as its fourth season premiere nears:
The network, part of the NBC Universal family, also is reaching further into the mainstream than it has in prior years, buying TV time during the NCAA playoffs, magazine spreads in non-genre publications such as Elle, Vanity Fair and the New Yorker, and using celebrities like Brad Paisley and David Letterman to rally newbies to the critical darling's much buzzed-about last 20 episodes.

Partnerships with TiVo and independent pizza parlors, with prizes ranging from iPhones to free food, aim to boost ratings by nudging viewers to watch the show live when it airs Friday night.
As long as we get a pizza that looks like Starbuck's prophetic painting, then I'll be happy.
The Biz: Sci Fi Goes To Elle And Back To Promote Battlestar Finale [The Biz]