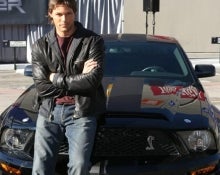 It's the news that I didn't mention for a day because I wanted to believe that it was all just an April Fools' hoax: NBC has picked up the recent reboot of Knight Rider as a regular series for its 2008-2009 season. The network, which will now be known as the "No, we didn't learn anything from Bionic Woman, thanks, why did you ask? Channel," hopes that the show will draw viewers in on Friday nights, but it's not banking on it, according to NBC co-chairman Marc Graboff.
Talking to Variety, Graboff admitted that he's perfectly happy if no-one watches Mike Tracer following in the footsteps - well, wheeltracks - of his father, Michael Knight:
Advertisers don't care as much about a specific show as opposed to 'Am I getting the kinds of eyeballs I paid for?' ...If we say we have a one-hour drama going into a timeslot, and it turns out it's not up to snuff, we'll put on another one-hour drama we have in the pipeline. What we won't do is put on a reality show.
Keeping up his unusually candid tone, Graboff also said that he know that Knight Rider isn't the most intellectual show... and, what's more, he's proud of it:
People need to escape. Ben [Silverman, NBC's head of programming]'s programming strategy is to find some shows where people can tune in and then mentally tune out. That's his directive, and I think you'll see that reflected in the programs.
Of course, NBC has more reason not to think about things than many; it's not every network that gets sued by Jack Klugman, after all.
NBC offers escape with new slate [Variety]