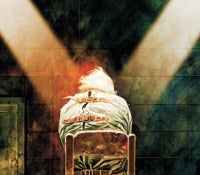 Proving that there is little in the world hotter than the combination of nerds, MySpace and Joss Whedon, tickets for the MySpace-sponsored, comic-commemorating Y: The Last Party sold out within hours of the event being announced yesterday. February's event celebrates the final issue of Brian K. Vaughan and Pia Guerra's post-male-apocalyptic fantasy Y: The Last Man, due to appear in stores at the end of this month. It takes place in popular LA comic store Meltdown, and Whedon - a collaborator on the Buffy Season 8 comic - will give a "keynote address," cementing his position as the Steve Jobs of geekdom.
All proceeds of the party (the 70 advance tickets cost $100 each, with an additional 70 being made available on the day of the event itself for $25 each, which means that there's still a chance that you, too, can attend) go to the Comic Book Legal Defense Fund, which offers some solace to the embarrassed Vaughan, who clearly isn't used to this kind of attention.
Over on his blog, by way of announcing the party, he wrote:
I would never dream of charging money just to see my stupid moon-face, but this is a 100% tax-deductible donation to the Comic Book Legal Defense Fund, a charity that's vitally important to our medium, and I'll be joined by lovely co-creator Pia Guerra, and it sounds like editor Will Dennis and Y colorist Lee Loughridge will also be on hand (though they're probably only coming out to meet Joss Whedon, which is the only reason my wife will be there).
Personally, I'm almost hoping for an outbreak of a mysterious virus that kills all males across the globe the day before, leaving Pia as the last guest standing, but that's just because I'm a fan of cruel mother irony.
CBDLF, MySpace host Y: The Last Party on February 8th [Newsarama.com]
Y: The Last Party [bkv.tv]