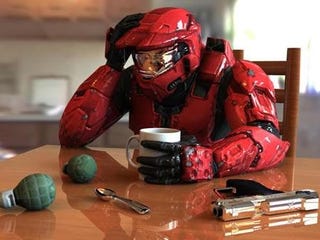 The Halo video game trilogy has sold quadrillions of copies, spawned spinoff novels, a new strategy game coming out this year, a clothing line, and along the way has solidified itself as a pillar in the gaming community. So why would you make a movie about the game, but change the main character into a supporting character?
Bungie writing director Joseph Stattten oversees all of the writing that goes on for the games that the studio pumps out, and he has a deep knowledge of the storylines as a result. When he was asked if fans would want to see the always armored Master Chief's face in the oft-delayed Halo feature film, he said
I think what it boiled down to with the film was really a question of "Who is the main character of the movie?" Is it the Master Chief or is it somebody else? And over time I think everybody around the table agreed that the Master Chief is best left as the most important supporting cast member.
But what about our beloved hero who we've been through so much with? Looks like he'll be relegated to "emoting" with his body language, since we never see his face throughout the games, and they want to keep that up in the movie.
Where the Master Chief doesn't have a face, but he has a whole body to emote with, whether it's his spine, or his shoulders. or the tilt of his head, or the way he slumps or reloads his weapon. There are these kinesthetic responses that he'll have which will really easily communicate the character and what he's feeling.
In other words, prepare yourself for Halo: The Pantomime.
Interview with Bungie's Joseph Staten [Newsweek]