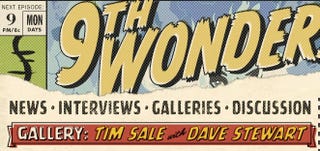 Heroes 360 is a lot more than your basic network half-assed attempt at a web presence for a show. This site for NBC's mutant soap opera is packed with original content like Heroes web comics, blogs, stories, and interviews. New stuff goes up every week, and this is only going to happen more now that the writer's strike has made comics one of the only formats where you'll be able to see your favorite Heroes characters for the next three months. Here's our quick guide to getting started with the Heroes site.


Since the writing on the website isn't covered by the Writer's Guild (even though several guild members have contributed to it), that means they'll have new content for at least three months, according to project manager Joe Tolerico. They're also working within continuity, and everything on the site gets approved by Tim Kring before it hits your screens. It's basically meant to serve as a gap between Volumes 2 and 3, and hopefully that means they'll be explaining why Volume 2 started out like a lead balloon.
Here's some of the better parts of Heroes 360:

The Comics. They're all fairly short stories, maybe five to six pages in length, but they feature quality artwork with some of your favorite Heroes characters. SEE Matt Parkman on the job! READ as Hiro learns how crappy the future is! GASP as Peter Petrelli gets ribbed for being a nurse! Plus one of the most recent stories features Horn Rimmed Glasses Man himself whaling on a superpowered guy with a baseball bat. Not too shabby.
The Spinoff Sites: Sites for places like PrimaTech Paper (the front for the mysterious Company), 9th Wonders (the comic publisher in the show), and The Yamagato Fellowship (a fictional Japanese foundation that studies heroes) do their best to make the world of Heroes seem real with updated content and design. PrimaTech Paper even has a page informing clients that Noah Bennet is unfortunately no longer with the company. Wink wink.
The Interviews, The Video, The Forums: There's enough extra content at these sites to make Peter Jackson's DVD producer jealous. Everything from video interviews to behind the scenes looks, and a forum that speculates on everything from Hiro's virgin status, to the secret powers that Mr. Muggles must wield.

We picked up the graphic novel format Heroes book that compiled some of the website comics, and it's not half bad. However, just like Buffy living on in comic book form, it's a poor substitute for acting, no matter how hammy it gets. We love having the comic books to supplement and shore up the show, but don't make it our only form of entertainment. Heroes: Finger Puppet Theater may be next.