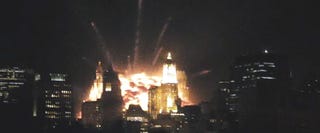 There's a right way and a wrong way to destroy New York, according to an expert quoted in the New York Times. The right way (like I Am Legend) is tasteful and pays homage to the city even as you crash it into rubble. The wrong way (like Cloverfield) is exploitative and brings up memories of 9/11. What on Earth is James Sanders smoking?


Sanders, author of Celluloid Skyline, says "everybody" thought there would be no more images of New York's destruction after Sept. 11. But the New York skyline makes too tempting a target for film-makers. NYC provides a "yardstick" for the scale of destruction, and is meaningful to overseas audiences in a way that Chicago or St. Louis just aren't.
Then we get to the crack-smoking portion of Sanders' quotes in the Times article:
In contrast to I Am Legend — which like The Omega Man (1971) is based on a Richard Matheson novel — the Cloverfield images verge on being tasteless, Mr. Sanders said. "They are playing on feelings not just about New York as civic symbol but on the shock of Sept. 11," he said. "To some degree, that's not fair ball."
I'm not sure which part of his statement is weirder. The idea that there's a "tasteful" way to show millions of people dying, or the idea that audiences can't tell the difference between real destruction and movie spectacle. Actually, I know: it's the notion that I Am Legend wasn't pure 9/11 porn, which it was. (How many times does Will Smith use the phrase "Ground Zero" in that movie again?)
Still, I'm beginning to understand why director Francis Lawrence decided to make I Am Legend look less post-apocalyptic and more nature-park. If you actually cut loose in your fantasy movie and show real destruction and havoc, then people will accuse you of being an impolite bounder, not fit for good society.
Luckily, the problem will solve itself. America won't be the world's main superpower much longer, and NYC won't be the world's leading city. Soon, people will be much more interested in seeing Shanghai or Seoul destroyed than NYC anyway.