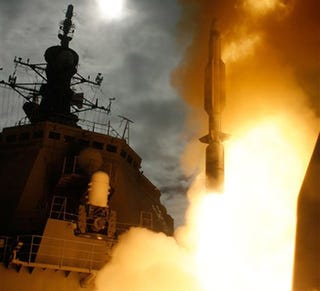 Giant rockets fought in space yesterday when the Japanese military shot down a mid-range ballistic missile using this Standard Missile 3 (SM-3). The ballistic missile was zooming along 100 miles above the Pacific Ocean. Japan is the first US ally to attempt these kinds of space war moves, and they did it from a US Navy missile range off the coast of Kauai. Check out more fire and a Japanese military boat in photos after the jump.


Here's the boat that launched the interceptor SM-3. Very groovy and World War II.

And here's the missile going up into space.

AP Photo/Japan Maritime Self-Defense Force, HO.