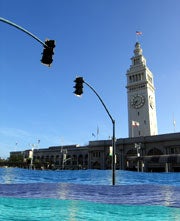 Over the weekend, the UN Climate Change Conference in Bali came to an action-packed conclusion. The United States got bitchslapped by a delegate from Papua New Guinea — who told the US to "get out of the way" if it wasn't going to be a leader in reducing toxic emissions — and the delegates stayed up all night to produce a document promising to produce more documents in 2009. So what's the real upshot? Will San Francisco be submerged in 2020?
Every country attending the conference, including China, was willing to reduce its toxic emissions except the United States. China and the US are the world's biggest producers of airborne toxins that lead to climate change.

The European Union pushed for widespread adoption of its own plan, which involves 25 to 40 percent reduction in emissions by 2020 and 50 percent or more by 2050.

Scientists say that if the world's temperature rises more than 2 degrees Celsius, or our atmosphere hits more than 445 parts per million of carbon dioxide, we face environmental disaster, with coastal cities and island nations flooding, food shortages, and mass migrations away from areas that have become uninhabitable due to increased storms and water levels.

The Intergovernmental Panel on Climate Change points out that global temperatures have already risen .7 degrees since the nineteenth century.

Nevertheless, the UN now has an agreement with all parties involved, including the United States, to create a new treaty to limit emissions in 2009 that will extend Kyoto. By then, there will be a new regime in the U.S. that may be more sympathetic to limiting emissions.

What Happened at Bali? [Knight Science Journalism Tracker]