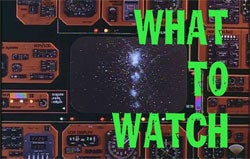 Poor Journeyman. It started off as a total runt, and ended up the coolest new show of the season. And now its final two-parter airs on Monday and Wednesday at 10 PM. At least the show is going out with class, by answering our burning questions about Dan's time travel. And a ratings miracle could still save it. What else is worth watching this week? Click through to find out.
There's another new (to Americans) episode of Life on Mars on Tuesday at 9 PM on BBC America. A bomb scare leads the cops in 1973 to believe the IRA is mounting a new bombing campaign in England.
Also on Tuesday at 9, PBS has a new NOVA (check local listings.) "Missing in MiG Alley" narrates the first ever jet war, as American and Russian pilots faced off over North Korea in the 1950s. The battles pitted the American F-86 Sabre against the Russian MiG-15, and some downed pilots disappeared without any trace. Archival footage and "dramatic reconstructions" put you in the cockpit.
More PBS science porn: Wired Science has a new episode on Wednesday at 9 (again, check local listings.) The Wired gang explores a "space junkyard," shows how researchers are using human perception to digitize books, and interviews DNA pimp Craig Venter.
And "level five" of Rise of the Videogame talks about the development of emotional and intimate dimensions in gaming. In other words, teledildonics. That's Wednesday at 8 on the Discovery Channel.
Thursday's Smallville is a rerun of the one where the three "meteor freak" girls want to use Clark's super-cousin for their own bad-girl aims.
Friday on Starz, there's a new documentary: Anime: Drawing A Revolution. As you'd expect, it's a look at the rise of Japanese animation and how it's affected live-action movies like The Matrix. Early buzz says it's worth watching.
Sunday night, Fox is showing Spider-Man 2, on the off chance you don't already have the special-edition DVD with the three extra hours of Peter Parker unmasking himself to random strangers.
And that's it for this week. It's a slow week, but not because of the life-sucking effects of the writers' strike. This is just the normal holiday TV blahs. Next week will undoubtedly be worse.