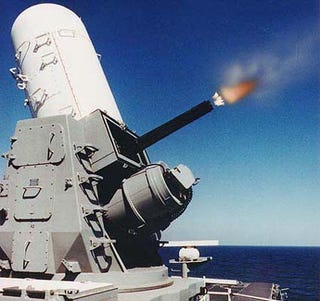 Here are your science headlines for this lovely Monday morning. Let's start with a little global healing from your pals at Raytheon, the company best know for making the Phalanx (pictured at left), surveillance devices, and reconnaissance gadgets. Apparently the Green Building Council has awarded Raytheon's new Wartime Protection Center in Alabama a "silver" badge of approval for environmentally-sound building practices. That makes it the first green facility in all of Alabama.

Speaking of military boons, it turns out that soldiers are about to start benefitting from antennae made of plasma. These superheated gas antennae work just like regular metal ones, except that they can't be jammed and they disappear the moment they turn off. Plus, they look like cool neon tubes. Wrecked economies and curing cancer after the jump.
Unfortunately nothing can undo the economic troubles that climate change will visit upon the Asian economy. According to a new report:
Asia is "effectively on the front line of climate change", as it is home to almost two-thirds of the world's population. And with half of this population living near the coast, billions are directly vulnerable to sea-level rise driven by a warming world.
Your own immune system could stop the growth of cancerous tumors via a system called "immunosurveillance." Basically the theory behind it is that if we can't kill a cancer outright, at least we can keep it from getting bigger. Turns out the technique is working far better than anybody thought it would. Image courtesy of Raytheon.