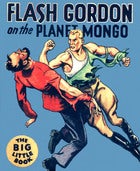 Flash Gordon producer Peter Hume says he's heard the millions of complaints about his show, and plans to set things right. In a recent press conference, he said:
The two big complaints were Ming isn't strong enough or mean enough, and that it's not enough Mongo. We're all Mongo all the time now.
He also played the "pity us for our tiny budget" card, whining that Flash Gordon only has one-fifth the budget of its SciFi Channel sister show Battlestar Galactica. Then he ranted incoherently about Chuck, one of the only science fiction shows whose ratings have been going steadily up this season.
Hume said:

You can't compare us to Battlestar Galactica. That's not fair. It's not fair because you're going to judge a show on the show. And so you could compare us to Chuck, but what we're doing is with so much less than they have. I'm not asking for that as an excuse. I'm just saying that there's a reality of what we have to operate in and there's only so much visual effects we can do.
Um, yeah. I'm always going to judge a show on the show. That just makes good sense. But I'm looking forward to more Mongo. And hopefully more Hawkmen! Caw! Caw!
Flash Gordon to Spend More Time on Mongo [via SyFy Portal]