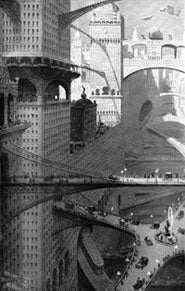 In 1908, artist William Leigh was commissioned by Cosmopolitan magazine to create several paintings of a future New York City. Leigh, who was mostly known for his drawings of Western landscapes and Indians, proved surprisingly adept at urban futurism, producing gorgeous drawings of a New York with elevated walkways and roads that issue from arched tunnels halfway up his soaring skyscrapers. Matt at Paleo-Future points out that Leigh's paintings are currently on display at New York's Skyscraper Museum, along with images by other artists fascinated by urban futures. More future New Yorks below the fold.
Raymond Hood, who designed the Art Deco masterpiece at 20 Rockefeller Plaza in 1933, created a proposal in 1929 for a 1950s Manhattan joined to Brooklyn and New Jersey by a latticework of "skyscraper" bridges that could house people on the water and ease cross-water traffic, effectively eroding the boundaries between the island and its neighbors across the rivers. Needless to say, the idea was never put into effect.
Another famous plan spawned in the 1920s for New York's future came from The Regional Plan of New York and its Environs, and called for linked highrise apartment buildings along the Hudson waterfront. All images from The Skyscraper Museum.
Future City 20|21 [via Paleo-Future]