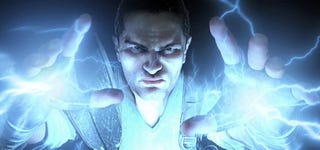 You've seen the Force Unleashed II trailer that explains how Starkiller is still alive. Now watch the theatrical trailer that shows off the cut scenes. How good is it? Starkiller can now burn Stormtroopers alive with his mind! Spoilers ahead.
We seriously wish that Starkiller would just get his own miniseries already — preferably on HBO. That will never ever, ever happen, but wouldn't it be amazing? I no longer care about the Jedi-cloning loopholes, because this trailer looks that great.
The video game will be available on Xbox 360, PlayStation 3, Wii and PC.
UPDATE Here's another: