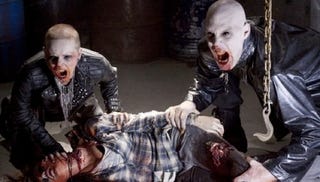 Normally direct-to-DVD sequels are a bit of disappointment. But the new 30 Days of Night 2 trailer has us thinking this might be a whole lot of bloody fun. Check out what happens after the 30-day Alaskan human flesh buffet.
That whole "I've installed UV lights in the ceiling" thing was pretty grand. And something we've day-dreamed about doing for years. Sure the main actress has been recast, but it looks like they are picking up right where they left off. The DVD hits stores October 5, 2010.
Synopsis:
After surviving the incidents in Barrow, Alaska, Stella Olemaun relocates to Los Angeles, where she intentionally attracts the attention of the local vampire population in order to avenge the death of her husband, Eben.
[Bloody Disgusting, Top image via Movie Web]