This weekend, DC and Warner Bros. will reveal the next trailer for Justice League—and they're going to spend the next two days reminding you of that with a ton of new posters and little snippets of footage. Here's the first batch, focusing intensively on Atlantis' king, Aquaman himself, followed by Batman and the Flash.

The new footage is very brief, but features new shots of Jason Momoa in action as Arthur Curry (including getting his giant trident—is it really a trident with all those extra prongs on it though? A quindent?—tossed to him by Batman). It's short, but appropriately epic for the film's larger-than-life take on the character.
There's also two new posters—one generic one of the Justice League emblem, and another of Aquaman clad in armor.
G/O Media may get a commission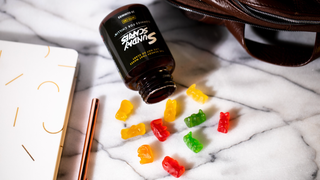 10mg CBD Gummies (22-Count)
The armor's not new—he wore it in the first picture of the team shown at San Diego Comic-Con last year. But it's probably our best look at it yet, considering since then we've mainly seen Aquaman running around topless, as the King of the Oceans is wont to do. It's a bit too green compared to Arthur's traditional look, but still, suitably scaly and whatnot.
We'll update this post with more snippets as Warner Bros. doles them out, ahead of the latest Justice League trailer dropping this Saturday, March 25.
Updated 3:09: We were treated to another teaser for the trailer, this time featuring Batman. Who just loves to perch on meaningful, high statues.
And here's the poster.
Update 7:40 pm: Now, The Flash is in the mix with his own poster and teaser.
Updated 03/24 11:28 am: Another day, another teaser and poster—this time for Wonder Woman. Man, what is it with this movie and symbolic statues?
Update 03/24 4:20 pm: And here is what is presumably the final teaser and poster—unless Superman, who is, we should point out, still currently dead when this film begins, gets one. Naturally, this focuses on Victor Stone, better known as Cyborg.
We'll add more as they come out.