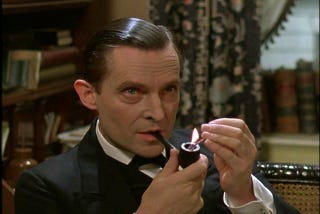 Today, we took another look at all of our very favorite comics, re-lived the highs and lows of the past year year in television — and solved the mystery of just who might be fiction's most popular character ever.
In this post, we looked at all our favorite detectives, and one name kept coming up over and over again. Commenter JBBW took a stab at just why:
Think of how many other shows on television have him show up during their series. Everything from Bewitched to Star Trek have episodes where they run into Sherlock Holmes. Even if a show doesn't have him show up 'in person', if they have a show where some detective work is done the person doing it will have elements of Holmes' character. Lastly, Sherlock Holmes is the only detective that gets repeatedly reinvented. There's a new version of him [pictured] in the text for this article. No other sleuth comes close.
In terms of sheer numbers, Sherlock Holmes seems to be the one to beat — he's the current holder of the Guinness World Record for the most portrayed literary character across film and television.
Have a favorite Sherlock? Or a nominee for another character with just as much fictional juice? Tell us about them!
Image: twm1340