A dead four-meter-long giant squid washed up on a beach today in Wellington, New Zealand. The creature eventually drifted back out to sea, but not before locals had the opportunity to snap photos of the beached beast.
From Sarah Harvey at the Sunday Star Times:
[Museum of New Zealand Te Papa Tongarewa] communications manager Jane Kieg said the creature was in bad shape as it had been attacked and had suffered further damage from being washed up on the beach.

Department of Conservation Wellington area manager Rob Stone initially identified the squid as a colossal squid - the largest type.

But Ms Kieg said it was a giant squid. She said colossal squid have short tentacles with swivel hooks and massive fins. But the Wellington beast has long tentacles with teethed suckers and small fins.
The dead squid was found on a marine reserve, and its body returned to the sea. Researchers did remove the squid's beak to determine its age.
[Stuff.co.nz via Cryptomundo]

Photo by Emma Best.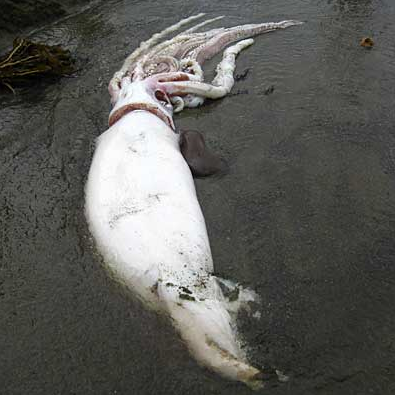 Photo by Jeannine Fischer


Photo by Simon Brunton


Photo by Simon Brunton


Photo by Steve Watts