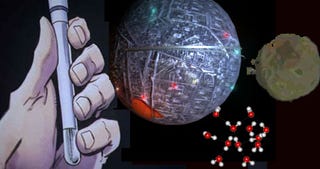 You can't really call yourself an evil genius unless you've got a clever scheme for wrecking our planet once and for all. And no, using nuclear weapons doesn't really count as "clever." Nukes are so 1950. Here's a list of the 10 coolest ways to smash Earth, or at least render it uninhabitable, without splitting any atoms.


Crash another planet into Earth. In an episode of the Transformers cartoon, the villain Megatron tried to bring his home planet, Cybertron, into Earth's atmosphere. The Cybermen also brought their home planet Mondas close to Earth in Doctor Who, and tried to suck the life-force out of our planet, which is sort of similar.
Freeze it to death. In Kurt Vonnegut's novel Cat's Cradle, a substance called ice-nine freezes all water on Earth, causing the extinction of most creatures, including humans, within a few days.
Poison it. In the James Bond classic Moonraker, Hugo Drax distills the poison from a rare orchid and puts it inside globes, which he plans to launch from a space station to points all over Earth. The result: total obliteration.
Cause the sun to go nova. Evil Star, a Green Lantern villain, wanted to plant a device in the Earth's sun that would make it go nova, so he could feast on the stellar energy. The NOVA bomb in Halo: First Strike would do the same thing.
Materialize another planet around it. In the Doctor Who story "The Pirate Planet," a giant hollow planet materializes around smaller planets and crushes the life out of them, then strips them for all their mineral wealth.
Bombard it with garbage. In the Futurama episode "A Big Piece of Garbage," New York launches a giant ball of its trash into space in 2052 — only to have it crash back towards Earth, threatening destruction, years later.
Set up giant mirrors in space. This aspiring mad scientist has a plan to create a giant balloon in space, then cut it in half and coat each half with a reflective surface. If positioned the right way, they could reflect a ton of sunlight on a specific point on Earth.
Biological warfare. In the latest season of Heroes, the Company created a nasty virus that would kill almost the entire human race. And that white Samurai guy was so mad that Hiro kissed his GF that he decided to unleash it.
Killer robot army. In the classic video game Robotron 2084, a swarm of killer robots succeeds in wiping out the entire human race. Only one humanoid mutant remains to fight them off.
Knock it off its perch. Doctor Impossible plots to throw the Earth out of its orbit around the sun in Austin Grossman's novel Soon I Will Be Invincible. "As the Earth grows colder, my power becomes apparent, and the nations submit," he says. And the eponymous monsters in Zombies of the Stratosphere plot to send the Earth off course so Mars can take its place.