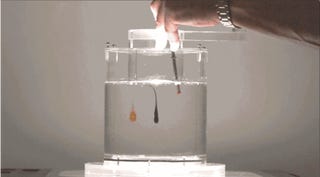 In this simple demonstration, we see what seems like a special effect. But it's not. Here's how laminar flow makes reality look like an optical illusion.
It looks totally fake. Corn syrup dyed yellow, blue and red is added to a container full of undyed syrup. The combination is stirred, smearing the colors into a muddled streak of brownish orange. But when the stirring is reversed, the colors we thought were irretrievable whirl into view: the drops of yellow, blue and red are restored! Magic? Fakery? Nope and nope. It's the result of a phenomenon known as laminar flow. But HOW DOES IT WORK?
We first introduced you to this experiment and the wonders of laminar flow a couple years ago, with this video by the University of New Mexico's Physics Department. Since then, we've received a pretty steady stream of requests from people asking us to explain the demonstration in greater detail. We have heard your cries. Let's get right to it, then, shall we?