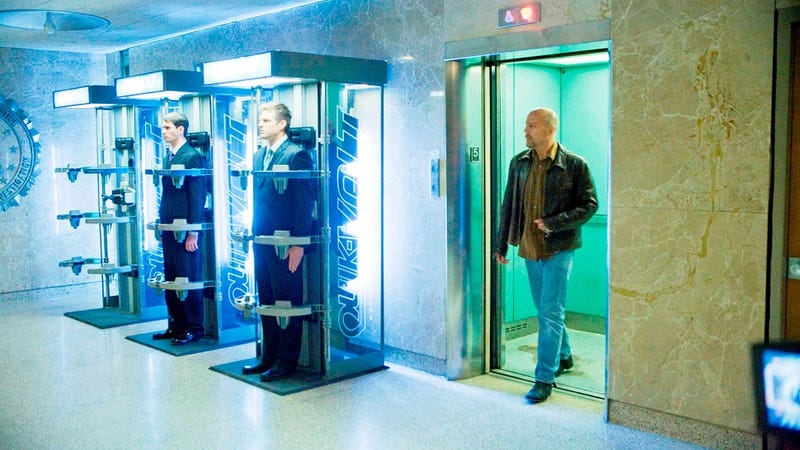 We're living in a time of extreme technological change. Gadgets that didn't exist a decade ago are shaping your existence. So we need science fiction, more than ever, to speculate about the future of technology. But here's the hard part: You can't speculate about technological change without also speculating about social change.
Top image: Surrogates.
People sometimes talk about the distinction between "hard science fiction" and "social science fiction." The former focuses on science and technology, the latter on social science, and on speculations about future societies or different cultures. (As opposed to "soft science fiction," where the science is less rigorous.)
But there's a bit of a false dichotomy involved in making such a clear-cut distinction — just look out your window or take a walk down the street if you don't believe me. New technologies, including smartphones but also including the relatively portable ultrasound machine, have changed our world in all sorts of ways. But those technological shifts have happened at the same time as massive social change, and it's hard to separate the two threads.
Tech changes society, but society shapes tech. That is, social change and technological change go hand in hand, but neither one drives the other.
Everybody in the world doesn't start doing the same thing
Sure, the pervasive internet allows people to communicate in new ways, making it easier for formerly marginalized groups (like LGBT people) to organize and become a cohesive social force. And you could argue that one reason for the rise of income inequality today is the fact that so much of our economy is tied up in tech companies and increasingly computerized banking companies.
But at the same time, you can think of lots of examples of society shaping technology. People start using new gadgets in ways that their makers never imagined, and (ideally) that means the next iterations of those gadgets are more geared towards those originally-unexpected uses. Also, social change creates new needs and desires, which technology arises to cope with.
I am always skeptical of stories that go, "Somebody invents a technology, and everybody in the world starts _____ing." (Often, except for one brave hold-out.) There has never been an example of a new technology that everybody in the world used in the exact same way, and it seems unlikely to happen in future. (Although, Flappy Bird, I guess.)
If you were trying to imagine a world of smartphones 20 years ago, you probably wouldn't have dreamed up sexting. Or the use of phone cameras for bullying. Or Grindr. Or the use of GPS data to help people but also track them. The smartphone has been tied up with changing sexual mores but also the rise of the surveillance state and dwindling concerns about personal privacy.
But at the same time, you have to account for counter-trends, and people finding ways to value what's being displaced. I was just working on a story set in the near future, with lots of weird neuroscience and computers grown in silicon gardens, and I threw in "futuristic" touches like genetically engineered kraken sushi and giant beetles that shed hallucinogenic tears into your mouth. I ended up scrapping a lot of that stuff because it was distracting — but also because in a future where brains were more hackable, people would probably cling to carefully sliced, perfectly handmade sandwiches. Just look at the rise of "artisanal" culture today.
All the reasons technological change won't ever be uniform
One thing to keep in mind when writing about technological change is the importance of generational shifts. Younger people embrace technology more readily than older people, but also use it in very different ways. And today's teenagers are going to have a very different attitude to the next thing that comes along, 20 years from now, than today's twenty-somethings or thirty-somethings.
Another trend to think about is the increasing population density in urban areas. Studies show that higher-density populations make new technologies spread more quickly, but meanwhile people in rural or suburban areas may be much slower to catch on to a new technology — exacerbating existing cultural divides between city-dwellers and exurban populations.