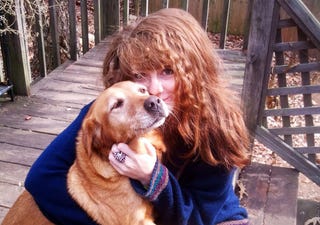 Even though you are reading this on a sophisticated electronic device, you are an animal. That's the most radical idea to come out of Charles Darwin's groundbreaking studies of evolution, and even today, it still freaks people out.
Photo by Carleigh, via Humans Hugging Dogs
I know this because last week I wrote an article about all the pieces of evidence that suggest humans have become domestic animals , which I thought was a fairly non-controversial claim. Among evolutionary biologists, it certainly is. Just as agriculture and a sedentary life have changed the genomes of dogs, cows, sheep and chickens, they have also changed ours. But after the article posted, many people responded to say that they didn't like my casual use of the phrase "domestic animal" to describe Homo sapiens.