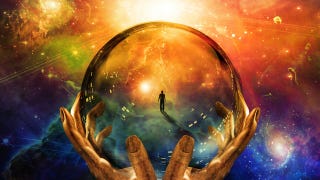 Bad news, everyone! New measurements show that electrons are perfectly round. This is a problem because it means something's still seriously wrong with a critical theory that's supposed to tell us why the universe exists.
Last year, Harvard and Yale physicists conducted an experiment to measure the "lumpiness" of electrons. The researchers were hoping to find abnormalities within the electron's negative charge.
Such an observation could have pointed to the existence of undiscovered heavy particles — evidence to support theories beyond the Standard Model of physics, such as weak-scale Supersymmetry. As it stands, the Standard Model — a description of the universe's fundamental building blocks — is incomplete; it fails to account for cosmological mysteries like dark matter and gravity.